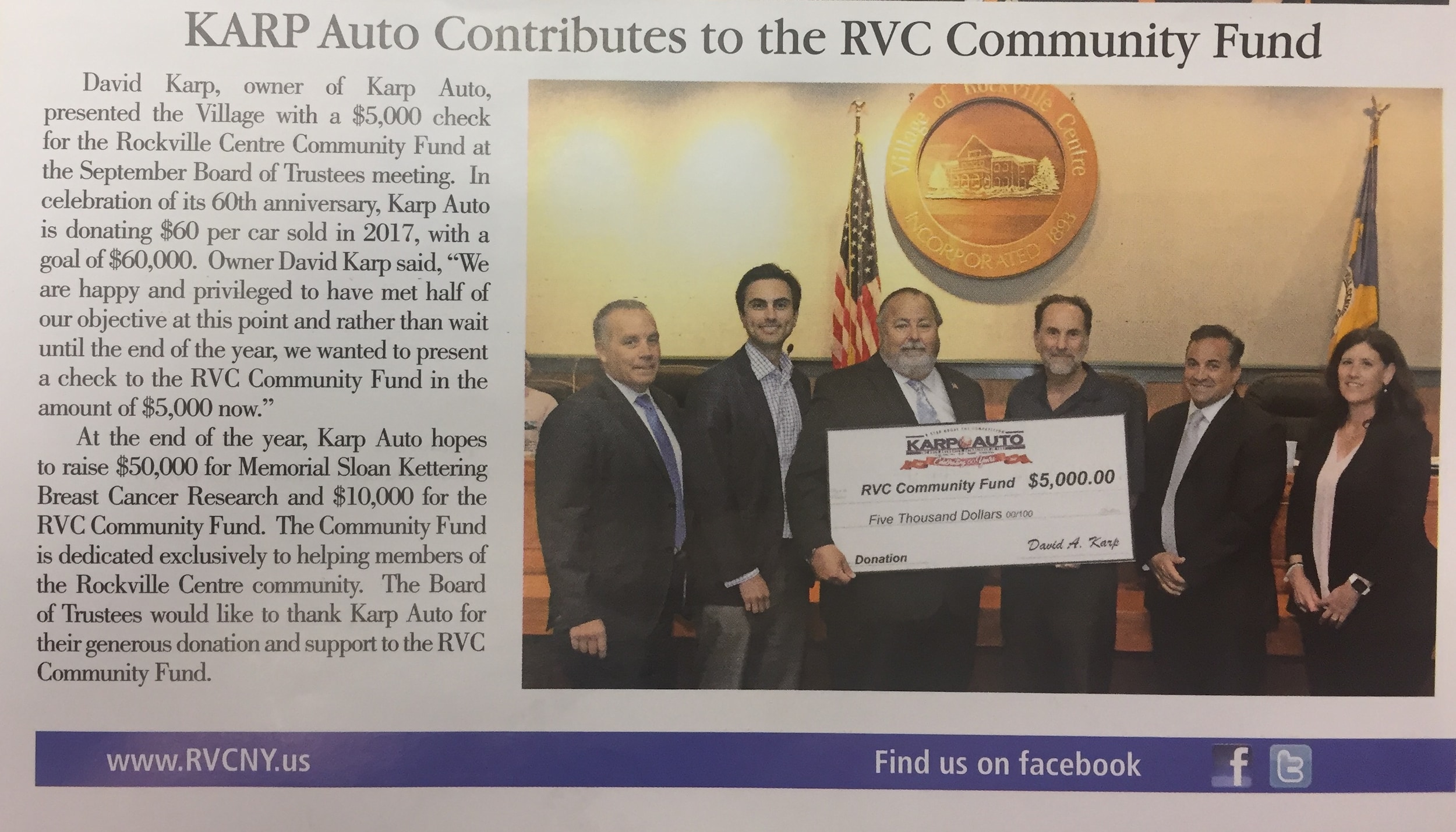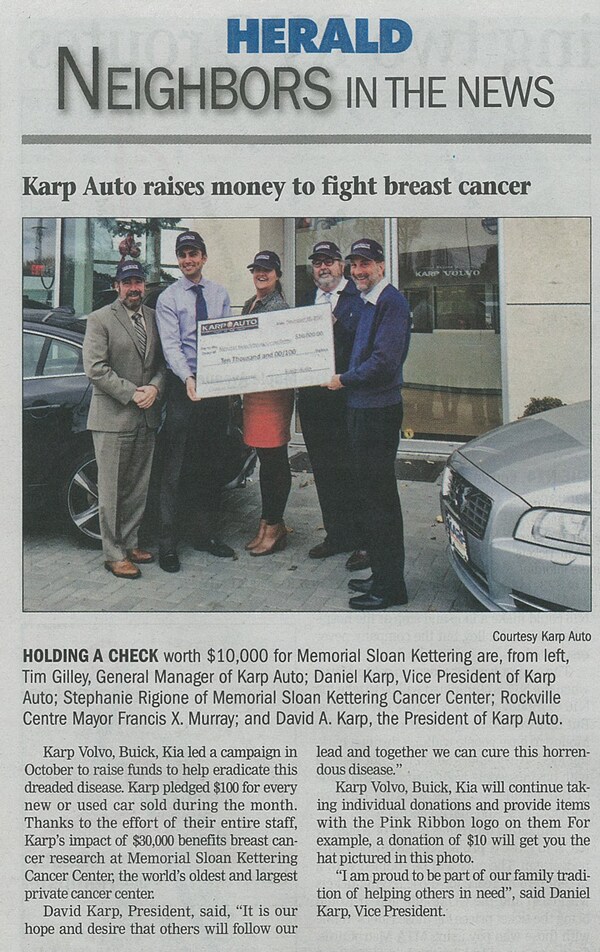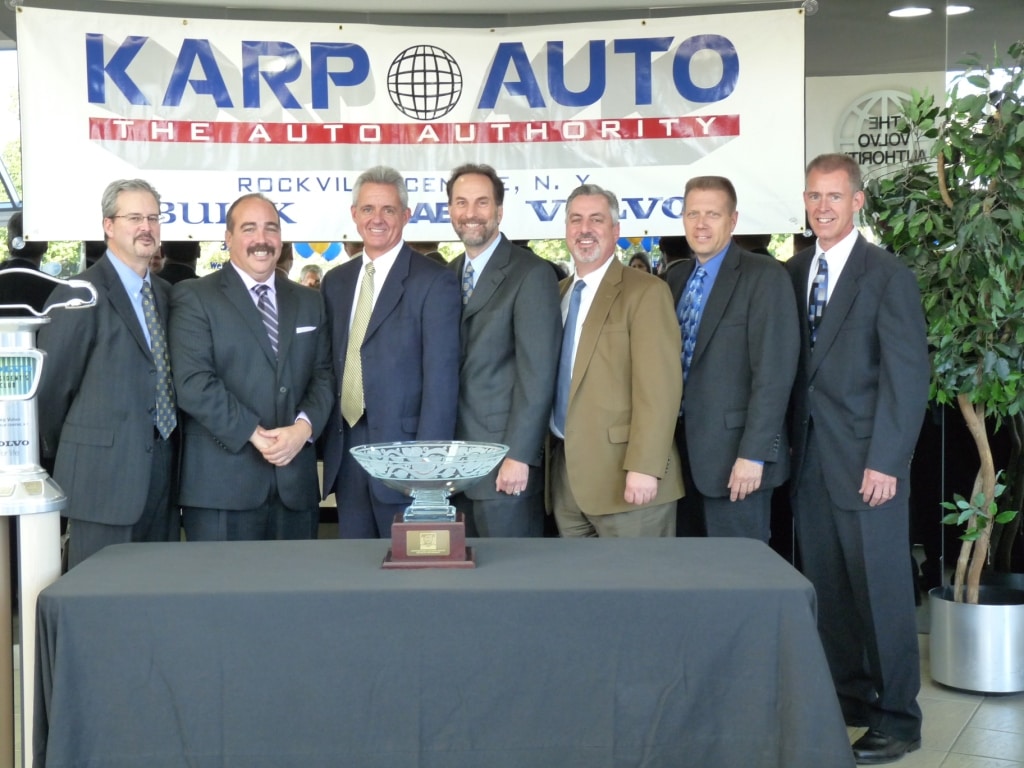 Karp Earns Volvo's Presidents Club Award

From left to right Rob Seitz, Volvo Network Strategy Manager: Tim Gilley, General Manager Karp Automotive; Rich Bryant, Volvo N.E. Regional Vice President; David A. Karp, President Karp Automotive; Jim Raggi, Volvo N.E. Region Sales Manager; Rob Kwitchoff, Volvo Metro NY AMM; Rich Buchheit, Metro Marketing Manager

October 19, 2009, Volvo Representatives presented David A. Karp, President of Karp Volvo with the prestigious Presidents Club Award for outstanding performance in 2008. Karp Volvo is one out of only 33 dealers in North America and the only dealer on Long Island who achieved this plateau. The Presidents Award is presented for exceptional customer satisfaction and strong performance in sales, service and parts.

"We at Karp have a single philosophy, satisfy the customer. This has been our motto since the 1940's when we became one of the first car dealers in the country. It has allowed us to grow and become one of the largest Buick-Saab-Volvo retailers in North America and recognized by our franchisors as a Dealer of Excellence. In fact, our customers agree and consider us the "Auto Authority," said David Karp.

Karp is a family owned and operated dealership founded in 1957.It is the only South Shore Volvo dealership from Queens to Montauk. In addition, Karp Auto has recently expanded its Pre-Owned inventory - stocking vehicles to fit almost any budget. For more information, visit their website www.KarpAuto.com.
Helping Young People Realize Their Educational Potential for a Quarter Centur

David Karp runs Long Island's longest family owned and operated dealership, Karp Automotive, where he is known for his good humor and entrepreneurial spirit. The dealership group, begun by his father in 1957 with a Volvo franchise, now includes SAAB and Buick as well.

A longtime supporter of the automobile industry and passionate champion of good causes in the community in which he lives and works, Karp is especially proud of the 25-year tradition, started by his father, of awarding scholarships to students at Southside Senior High School in Rockville Center, New York. For over two decades this selfless act has helped over 75 students realize their educational potential. In addition to academic performance, the scholarships are awarded to students who have shown outstanding community service as well.

Karp is also a long time supporter of education through his participation in the Greater New York Automobile Dealers Association. He has served on the Association's Executive Committee as well as the Public Relations Committee.

In his professional capacity, Karp has striven to ensure that his dealership maintains the highest standards of customer satisfaction for which he has received many awards including Volvo's prestigious President's Club Award, one of only 33 dealers in North America to do so last year. He is also a SAAB Unlimited and a Buick Select dealer and is a member of the Volvo Dealer Council and Volvo's tri-state advertising group.

Despite the downturn in the economy, Karp has no plans to modify his dedication to education at the local community level where he believes it is now needed more than ever.
Karp Teams up with US Marine Corps Reserves

From November- December 18, 2009 Karp Automotive is an authorized location for Toys For Tots donations with drop points at the Volvo showroom, Buick showroom, Saab showroom, or Service department located at The Karp Automotive Dealership, 392 or 400 Sunrise Highway, Rockville Centre, NY 11570 you will find our designated donation locations.

Marine Toys for Tots Foundation, an IRS recognized 501(c)(3) not-for-profit public charity is the fund raising, funding and support organization for the U. S. Marine Corps Reserve Toys for Tots Program. The Foundation was created at the behest of the U. S. Marine Corps and provides support in accordance with a Memorandum of Understanding with the Commander, Marine Forces Reserve, who directs the U. S. Marine Corps Reserve Toys for Tots Program. The Foundation has supported Toys for Tots since 1991.

The mission of the U.S. Marine Corps Reserve Toys for Tots Program is to collect new, unwrapped toys during October, November and December each year, and distribute those toys as Christmas gifts to needy children in the community in which the campaign is conducted.